Soquel Demonstration State Forest (north of Aptos)
(Often referred to as "the Demo Forest" or "SDF")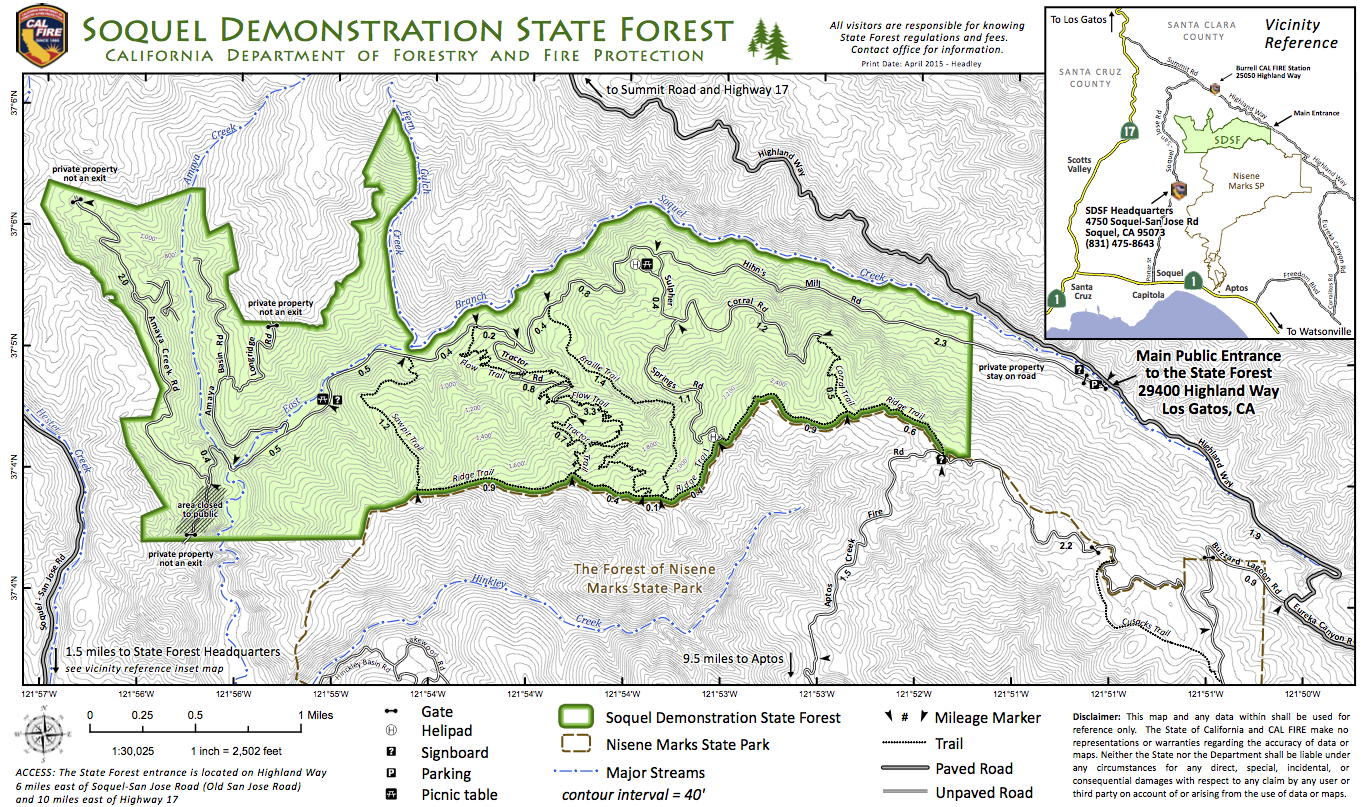 (This map is from "CalFire". Here's the original (a PDF document))
OTE Ratings: O8/T9/E7
Distance: 12-24 miles
Time: 2-6 hours
USGS 7.5' topo: Laurel, CA (most of the park); Loma Prieta, CA (start & end of the ride)

Description
At least two loop rides can be started here; you can wait until the middle of the ride to make the decision about which one to take. Starts out by climbing up the paved road, then climbing up some sandy/dusty dirt road, then some fun and technical singletrack (some of which was recently bulldozed into a boring fireroad), down into the SDF, with a decision at the bottom. The SDF actually borders on The Forest of Nisene Marks State Park, and you can fashion some nice long rides by combining these two areas.
Directions to the start
(N 37.08199°, W 121.85074°)
Take Highway 17 to Patchen Pass ("The Summit") and go southeast on Summit Drive. (That's a right turn if you're coming from Santa Cruz, else it's a weird crossing over 17.) Go 10 miles as Summit becomes Highland Way, and does a sort of right-then-left jog at Mt Bache Road and Spanish Ranch Road, to a parking spot with a small but bright green "Soquel Demonstration State Forest" sign.

Note: The section of Highland Way roughly 1/2 mile before this parking spot has historically been subject to frequent (and large!) landslides. Ocurrently, even though the road is marked closed at this point, it is still driveable.
The ride
Ride on up Highland (still southeast), turn right onto Buzzard Lagoon (Ormsby Road goes the other direction here), then right onto Santa Rosalia Mountain Rd (no sign -- it's a spot where Buzzard Lagoon continues straight and down, while you make a sharp right and go further up). Up for a while, then a little down and more up, you come to a gate, then some more up, and down to the Santa Rosalia Overlook. Here, take the singletrack down into Soquel Forest. One leftish turn is hard to find -- it's a "Y" just below the Corral Trail turnoff, off of Sulphur Springs Road (formerly some of the nicest singletrack in the Forest), to Ridge Trail and Tractor Trail. I used to recommend avoiding the upper end of Corral Trail, since the singletrack Sulphur Springs trail was a very fun one, but the Powers That Be ruined it by grading it into a dirt road.

At the bottom, Tractor Trail dead-ends onto Hihn's Mill Road (dirt); turn right for a gradual climb back to the parking spot.

©1995-2015 Doug Landauer

For more information


Return to the mountain biking page
©1995-2015 Ross Finlayson